TikTok saw 44% of its all-time downloads in 2019 alone as per a new report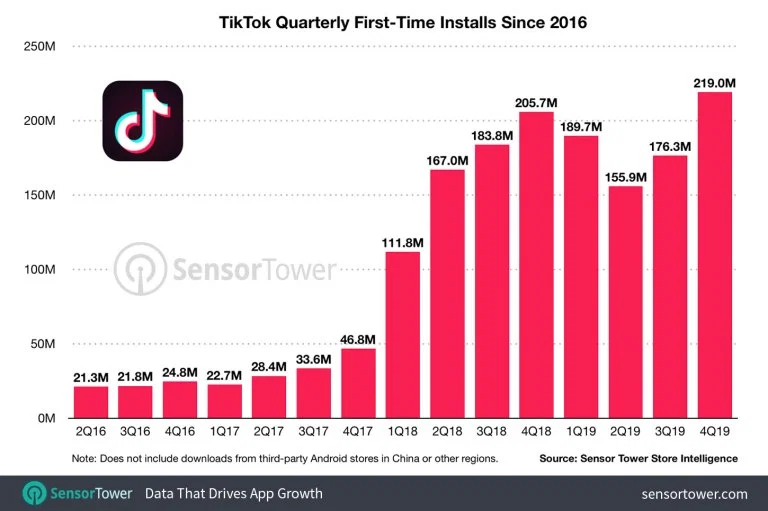 One of the most popular apps emerged in last year is TikTok which is a video creation app for short-form videos which are entertaining as well as informational at the same time. However, the main reason why TikTok became popular among masses in India, the US and of course China was because of its viral entertaining videos. This meant that people were enticed to seeing more videos on the platform which is how the user base kept growing. Now, a new report has emerged regarding the downloads on TikTok across different platforms.
As per this report, it is revealed that TikTok's highest percentage of all-time-downloads came in 2019 alone. It is known that 2019 saw 44% of the total number of times TikTok was downloaded by people which means that only 56% of the downloads were in rest of the years which is quite outstanding to be honest. However, the report also reveals that the app has still not managed to find a great way of monetization.
In comparison, we have seen apps such as PUBG and Fortnite emerge in the last year and we have also seen reports of how both of these apps have generated billions of dollars in revenue. However, we have not seen reports of the same for TikTok which is because the company is not generating that much of a revenue. This is also because of the US' concerns regarding TikTok since it is a Chinese app which means that the company has currently limited its ads.
Having said that, the report also mentions that TikTok generated a revenue of $176.9 million in 2019 which is 71% of the total revenue generated by the app since its inception. Also, one surprising stat is that India accounts for 44% of the total downloads for TikTok in 2019 which means that the app saw the most number of downloads last year from one country alone.