You can now trim Boomerang Loops on Instagram, new modes added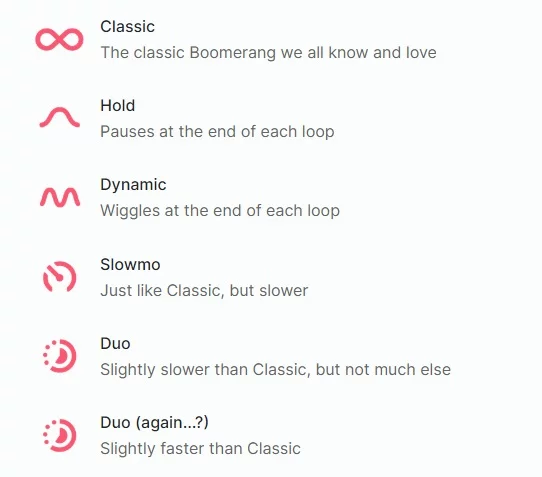 One thing you must have seen on social media platforms, and media sharing platforms especially, is that people love to post photos and videos. However, the most amount of "likes" are received by the posts which do a lot more than just traditional media.
One of these non-traditional media is a Boomerang which is basically a GIF played in a loop. Instagram introduced the concept of Boomerang as far as we are aware of it. And this feature lets you take a moving video and plays it in a loop.
Obviously, Boomerangs are small clips so that you can play it on loop without it getting too long. Now, we have an announcement from Instagram regarding the addition of new Boomerang modes to its platform. These new Boomerang camera modes are 'SloMo', 'Echo' and 'Duo' variants which are exactly what the name suggests. For the 'SloMo' Boomerang mode, you will be able to take a slow-motion Boomerang clip.
Apart from that, you will also be able to "trim and tweak" your Boomerangs from now on. This means that you finally have the ability to cut short your boomerangs instead of taking new shots as the original one did not turn out great or you wanted some part to not be there.
The trimming option for Instagram Boomerang was already revealed by reverse-engineering expert Jane Manchun Wong and it has finally been released by Instagram after an official announcement. However, we also know that Jane revealed six new Boomerang modes last year but only three modes have been released. So it means that either the modes did not go according to plan or it could be possible that they are coming at a later date. These new unreleased modes are named as Hold, Dynamic and Duo which is "slightly faster than Classic".