Twitter's 'promoted ad spotlight' ad option is officially launched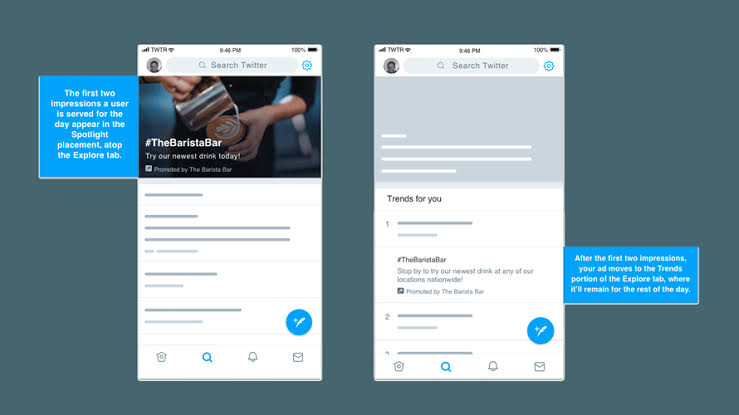 If you have seen the advertisement industry from a while now, you would understand that it has become denser than ever. This means that just like normal content, you will have to make your ads shown to people in the best possible for a bigger impact.
On Google's platform, you can do this with the help of outbidding others so that your ad is in the best spot possible. However, the other platforms did not allow it which was hard for smaller advertisers as bigger brands would often spend a huge lot to get their word across.
Now, Twitter has thought about smaller advertisers too as it launches a new ad option called 'Promoted Trend Spotlight'. This new option is a way to show your ads in the best way possible. Twitter launched a 'For You' section last year on its Android and iOS app as well as website. Now, this 'For You' section will also have promoted content apart from the organic stories.
This means that the first thing that you see in the 'For You' section might be either an ad or a normal post. However, it is also obvious that such a prime spot will also mean that you have to spend more. Also worth noting is that the 'Promoted Trend Spotlight' ads will be shown twice per person in a day only.
Here is Twitter's announcement regarding the same: "Your ad will appear at the top of the Explore tab for the first two visits per person, per day. After the initial two visits, the placement moves to the standard Promoted Trend placement and organic editorial content resurfaces in the Spotlight placement."
The company says that this new ad option will now be available in the US, the UK, Japan, Australia, Brazil, Canada, France, Germany, India, Indonesia, Mexico, Saudi Arabia, South Korea, Spain, and Thailand.