Moz says that Google's Diversity update was just a tiny improvement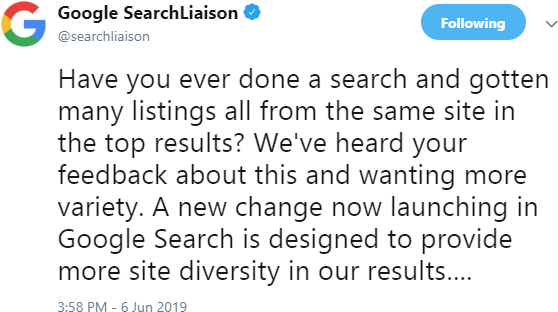 We recently reported about the Diversity update from Google. This was also one of the rare announcements made by Google before or when the update was rolling out. Basically, the update meant that there would now be a diversity seen inside the search results. Previously, you would have noticed that a specific search result will have three or four links from the same website on first page of SERP. With the diversity update, Google says that should not be the case.
Because Google has announced that it will now show only one link for most of the search results. However, the company also mentions that there might be more than two links seen inside search results for specific queries.
Now, Moz reveals that their data is not showing a major improvement in terms of site diversity. Moz also says that this announcement might have been done to please the regulators. We already know that regulators in various regions have been alleging Google of killing competition by showing more results from their preferred companies in search results.
Thus, Diversity update from Google will make them believe that there will not be more than 1 or 2 links from the same website in search results which means that Google is not killing competition. Dr. Pete Meyers from Moz says that "average diversity did improve marginally, from 90.23 percent to 90.72 percent (a 0.49 percent improvement)."
He goes on to say that he feels this was just a move to please the regulators because he adds that "but my gut feeling is that this was mostly a PR manoeuvre aimed at regulators."
Now, it is interesting to see if Google decided to respond to this or remains silent about this situation. However, we feel that Google will still show more than a link when it comes to branded content because the most relevant link in those situations would be the links from the brand itself.