Google announces June 2019 Core Algorithm Update releasing later today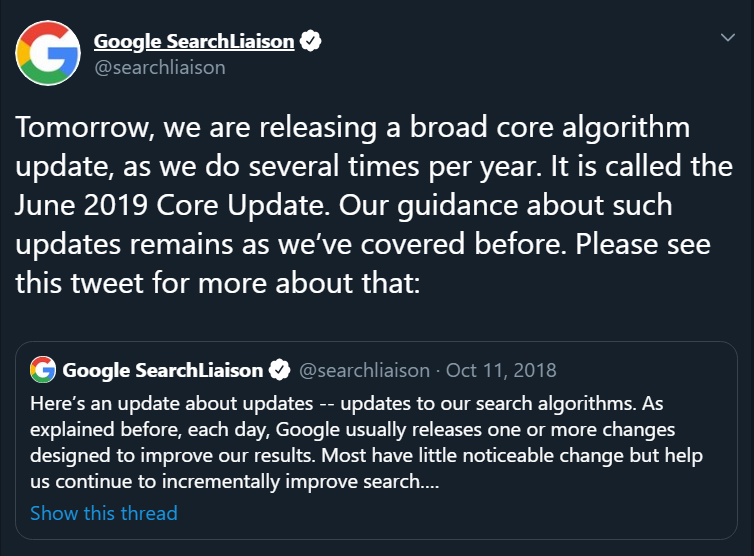 You would now be well aware that Google handles most of the search traffic around the world. This is because the company runs Google Search which indexes millions of websites every month. Now, we know that Google needs to release some updates in order to maintain Google Search. These updates are known as Algorithm updates because Google runs Search on the basis of algorithms only.
Now, we know that prior to this year, Google did not even announce that it is releasing a new algorithm update. However, Google surprised everyone yesterday night by announcing that it will release a new algorithm update. This algorithm update is already named as the June 2019 Core Algorithm Update.
Apart from that, SEO professionals will now be prepared that a new update is coming. But we must also note that there is nothing anyone can do about it. Because at the moment, no one knows what will be changed with this update. Therefore, it is impossible to make any changes to websites.
Also, there is a chatter inside the SEO Community that the update is supposed to be a big one. This is because Google has announced the update before-hand which seems to be a warning sign for people who are benefiting from spammy websites on Google.
By this, we are not saying if the algorithm will bring something to punish websites because frankly speaking, no one knows what is coming in the update apart from Google. The announcement regarding this update was announced yesterday by Google SearchLiason Twitter page.
In this announcement, Google mentioned that they are releasing a new update as they do several times per year. Other than that, we did not have any specific information revealed by Google apart from a previous tweet which says more about how Google releases updates and how it may affect your search rankings.