Majority of SEOs do not report Bing and Yahoo rankings to their clients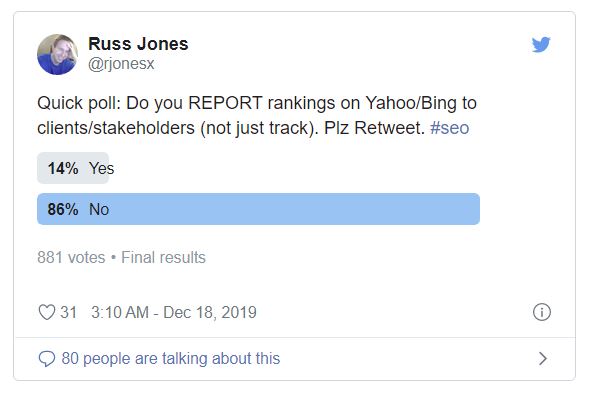 There has been a common trend in the SEO industry that we focus too much on our rankings in Google Search and due to this, we tend to forget about the other results. Now, it has been proven that this is still true for the SEO industry. It is to be noted that Google is currently the best search engine in the industry is a known fact. However, we know that some decent traffic can be had from other search engines such as Bing and Yahoo because many people still use them for searching for queries.
Related: SEO BUSINESS GUIDE
While we do understand that the use of Bing and Yahoo is limited to areas where Google is not available such as China. But even in China, Baidu is similar in popularity to Google and dominates the market so the scope of Yahoo and Bing even in the country is limited. However, it does not hurt if you are reporting about the search rankings on platforms such as Yahoo and Bing along with your Google Search stats.
However, it is surprisingly revealed that the majority of SEO professionals do not report their Bing and Yahoo search positions to their clients even when they are ranking on those search rankings. The simple reason could be that SEOs don't think it is worth showing those search rankings to clients and that is why they are not doing it. But the simple fact that it can be shown as not-so-important but a statistic nonetheless is totally ignored.
Now, a Twitter user conducted one poll in which he asked SEOs on whether they are reporting their Bing and Yahoo rankings in the rankings report to their client. To everyone's surprise, 86% of the SEOs said that they don't while 881 votes have been given to the poll which means almost 800 of those who voted don't report those rankings.