Google's Mobile-first indexing will move your sub-domains along with root domains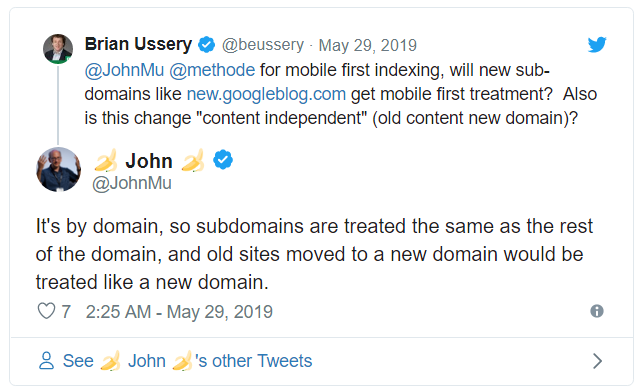 There has been some confusion regarding Google's mobile-first indexing in the SEO community. There have been some questions regarding this announcement from Google from quite some time. One of the main questions regarding the confusion is what happens to your sub-domains when your root domains are treated for mobile-first indexing.
Basically, the confusion is that if you have a root domain with www.example.com but you are also running sites with its sub-domains such as blog.example.com and news.example.com etcetera. Google will definitely treat the root domain, example.com as mobile-first indexed site but what happens to blog.example.com and more.
Now, Google's John Muller has cleared the confusion regarding the same to everyone concerned with this issue. John, responding to a question on Twitter, clarified that Google will move domains as well as its sub-domains to mobile-first indexing.
This means that your entire website along with sub-domains will be moved to index mobile-first rather than desktop-first. So it is necessary to make all your domains and sub-domains compatible for mobile-first indexing rather than just your root domain.
Now, one of the use cases for this is when you have sub-domains that are not hosted WordPress sites that use subdomains for their URLs. So instead of treating them as different websites, Google will treat them as a root website with sub-domains as far as mobile-first indexing is concerned.
However, you should also note that Google might not move the sub-domains to mobile-first indexing if they are not ready. Therefore, it is likely that Google will tell website owners with sub-domains to make their websites ready for mobile-first indexing including sub-domains.
As we know, Google has already told that websites which do not support mobile-first indexing from July 1 will face problems in indexing. Because the company has already announced that all new websites from July 1 will be indexed mobile-first.