DailyMail admits losing 50% traffic after Google June 2019 Core Update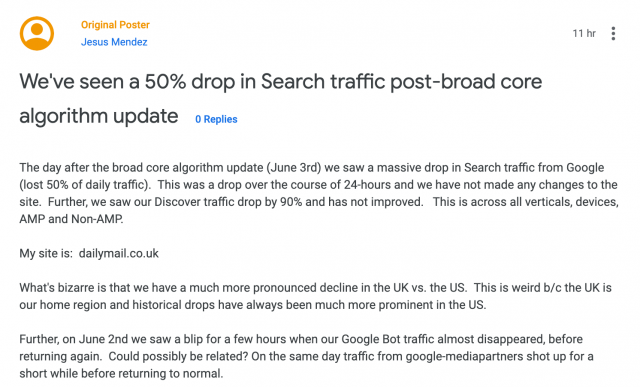 DailyMail UK which is regarded as being the one of the best publications in the United Kingdom has been hit hard in the June 2019 Core Algorithm Update from Google. As we all know, most of the news websites rely heavily on Google for organic traffic. And since these websites are there from years and have good factors, they are ranking mostly on the first page of Google. Thus, they drive most of the traffic when people search for the trending topics.
However, there are updates which even rank the highest of websites out of the search results. In the case of DailyMail UK, this is exactly what has happened. Because DailyMail has just lost most of the visibility it had in Google Search Results. This means that it should have lost a huge amount of organic traffic.
And if Jesus Mendez who claims to be the SEO Director at MailOnline is to be believed, it definitely has. Jesus claims that his site has "lost 50% of daily traffic" because of the Google update. Now, it is not common for SEO Directors of big websites to publicly speak about loss of traffic. And on top of that, it is a public forum which means it can seen by almost everybody.
Now, it is not verified whether Jesus Mendez really is the guy who handled SEO at the DailyMail but it does seem to authentic. This is because other SEO tools also show that DailyMail's ranking, as well as traffic, has indeed dropped. As of August 2014, DailyMail was recorded to have 11.34 million visitors daily.
Therefore, it is clear as to how much the site much have dropped in traffic if it is claimed to be 50%. Jesus also mentioned that their Google Discover traffic also dropped by over 90% and it has not improved. This makes it clear that DailyMail might be our first major casualty due to the latest Google update.