People spending more time on smartphones than on TVs in 2019, according to Research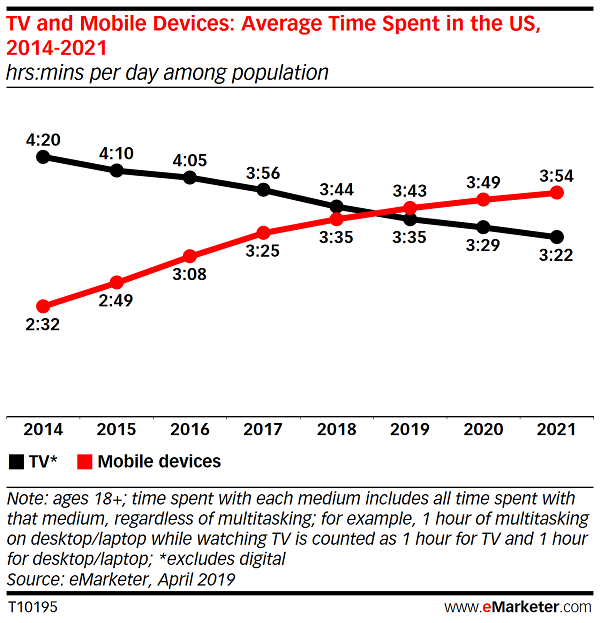 We have heard people say time and again that smartphones will replace TVs in the near future. Well, a new research from eMarketer shows that the future is upon us earlier than expected. Because the research reveals that smartphones users are already spending more time on their devices than on watching TV.
According to eMarketer's latest research, people in the US are spending more time on smartphone than on TVs for the first time in 2019.
"for the first time ever, US consumers will spend more time using their mobile devices than watching TV, with smartphone use dominating that time spent."
The research done by eMarketer has also been backed by data from current as well as future. And not only does it predict that smartphone users will spend time on their devices more, it also reveals that TV usage will decrease by 2021.
According to eMarketer, people in the US are spending an average of 3 hours and 43 minutes in 2019 as compared to 3 hours and 35 minutes on TV. This is an increase of 8 minutes in the average smartphone usage time for smartphone users whereas 9 minutes of decrease in average usage time for TV users.
Talking about the predicted average usage time from eMarketer, the research reveals that the TV usage may further decline to 3 hours and 29 minutes on average in 2020 and 3 hours and 22 minutes on average in 2021. On the other hand, smartphone usage may increase to 3 hours and 49 minutes on average in 2020 and 3 hours and 54 minutes on average in 2021.
Apart from that, the research also reveals that people are now spending more time on apps than on mobile browsers. On average, people are spending 2 hours and 57 minutes inside apps as compared to just 26 minutes inside browsers. In this usage, listening to digital audio is most common whereas social network activity comes second.