Instagram's user growth is reportedly slowing down according to a survey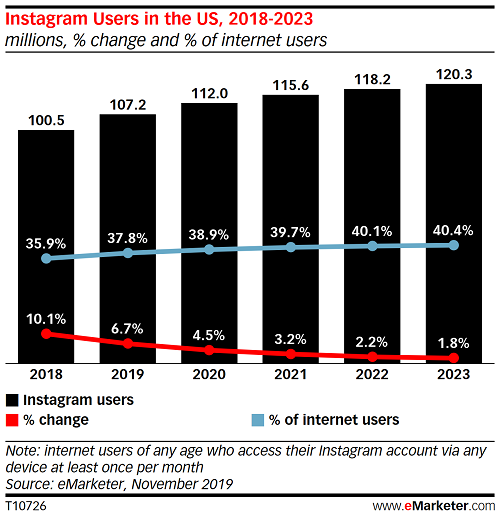 There is a growing number of social media platforms which have also become a way to interact for most people. Some of these platforms are the likes of Instagram, Facebook, Twitter and others. However, there is bound to be a phase where the growth of these platforms stalls and we see that the users are not growing anymore. While that is not to say that everyone is on the platform, it might also be the case that everyone who has an interest in the platform is already on it.
Similarly, we have a new report courtesy of eMarketer which reveals a fact regarding Instagram. As per this report, it is seen that Instagram's user base is slowing down in terms of growth. This means the platform is not growing as much as it did last year which might be an indication that users have already joined the platform. eMarketer's report also reveals that Instagram recorded double-digit growth of 10% in 2018. However, it is expected that the growth rate of Instagram has slowed down in 2019 which could be down to single digits just above 5%.
The publication also reveals that the growth rate on Instagram looks even bleak for the next few years which will still remain in single digits. The prediction from eMarketer is that Instagram's growth rate will slow down to just 1.8% by 2023 which means the platform could hit a plateau by that time. Having said that, the report does not take into account any new developments that Facebook could do to increase the growth so this is a case of If(s) and But(s) right now.
The same report mentions that the total number of Instagram users would grow to 112 million in 2020 which is a growth of 4.8 million compared to 2019. The challenge for Instagram's slowing user growth is not only getting older age users onboard but also from platforms such as Tiktok and Snapchat.