Snapchats reports Q3 2019 report with addition of 7 million DAUs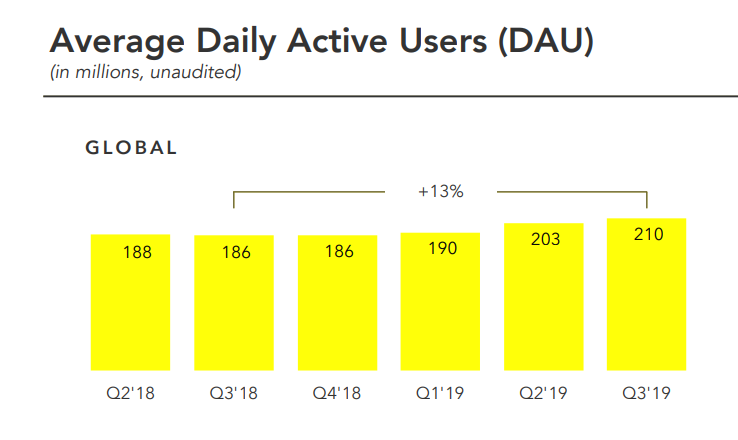 Snapchat was one of the most unique social networking platforms until the time when Facebook decided to lift their idea and integrate it into their platforms. We are talking about Snapchat's idea of Stories which get destroyed automatically in 24 hours. We currently have the same stories feature as Snapchat on Instagram, Facebook, WhatsApp, Messenger and you name it.
However, Snapchat is still surviving in the market despite the huge benefit taken away from them. But the company just posted its Q3 2019 results and we can say that they are not just surviving. They are growing in the markets too. Snapchat's Q3 2019 data shows that the app added 7 million daily active users from July to September.
The daily active users on Snapchat which were 203 million till Q2 2019 have now become 210 million by Q3 2019. While it is not revealed how this growth took place, we see that the company's efforts are paying a dividend to them. Not only the daily active users were added, but Snapchat also reported record revenues too. The company revealed that its revenue increased to $446 million which is an increase of 50% year-on-year.
Now, Bloomberg once reported that the debts for Snapchat could increase and the average revenue per year for the app could increase as well. However, Snapchat's average revenue per user has increased 43% year-over-year in Q3 2019 for North America and 33% increase is seen globally. But the 'Rest of World' growth for Snapchat is just 21% which is a cause of concern for the company. TechCrunch says that:
"Since Snapchat serves so much high-definition video content, but it earns just $1.01 average revenue in the Rest Of World, it has to hope it can keep growing ARPU so it becomes profitable globally."
Also, the company will have to work on growing its user base in North America as it just increased 1 million from Q2 2019 to Q3 2019 whereas its 'Rest of World' users grew by 5 million.