LinkedIn adds a caption feature to its videos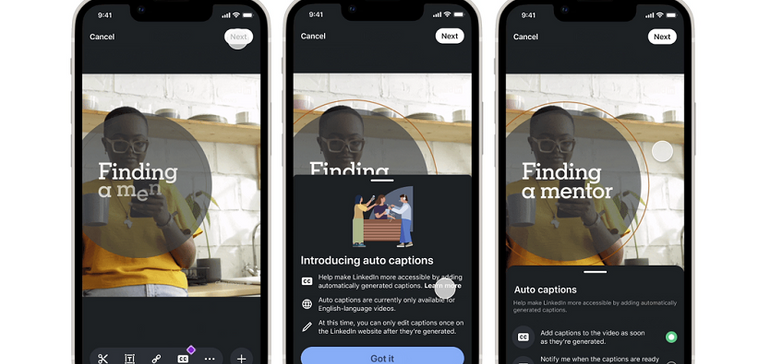 LinkedIn adds many features to upgrade its platforms. It also has many plans to work on features dealing with inclusivity. The new features will deal with personal needs that viewers can customize. However, the aim is to make LinkedIn more user-friendly.
LinkedIn adds the feature of automatic captions to its videos. This is a big upgrade from LinkedIn. They are making the videos on their website available to everyone. The captions will also help people who are deaf or hard of hearing. If they are in a public place, they can turn on captions and watch the videos on mute. The captions will get integrated during the upload process itself.
LinkedIn adds a color upgrade to its app as well. This feature has been under development for some time. The feature deals with contrast settings on the app. The feature will allow you to turn on the huge contrast settings on the app. This is also helpful for people with certain visual disabilities.
LinkedIn is also working on its bread and butter. They are making some changes to job postings and user profiles. The new features will enhance them as per accessibility. LinkedIn adds these features as unemployment rises to dangerous levels across the world.
LinkedIn reports that there has been an increase in the total annual job postings in the US. The job postings increased by almost 171 percent. All these job postings had the word "accessibility" in their titles. This also means that accessibility specialists are in high demand within the job market.
LinkedIn adds a new skill for profiles as well. The new skill is dyslexic thinking. Many people often say that this is a disability. But people with dyslexia can often simplify complex things. They can see connections that others miss.
LinkedIn adds a host of other features as well. It has given advertisers the to use alt text in their ads. However, this will help visually impaired individuals to understand the image in the ad. The courses will help you develop skills in accessibility. These features will come to your devices very soon.