Google gives hints on what it determines as unhelpful content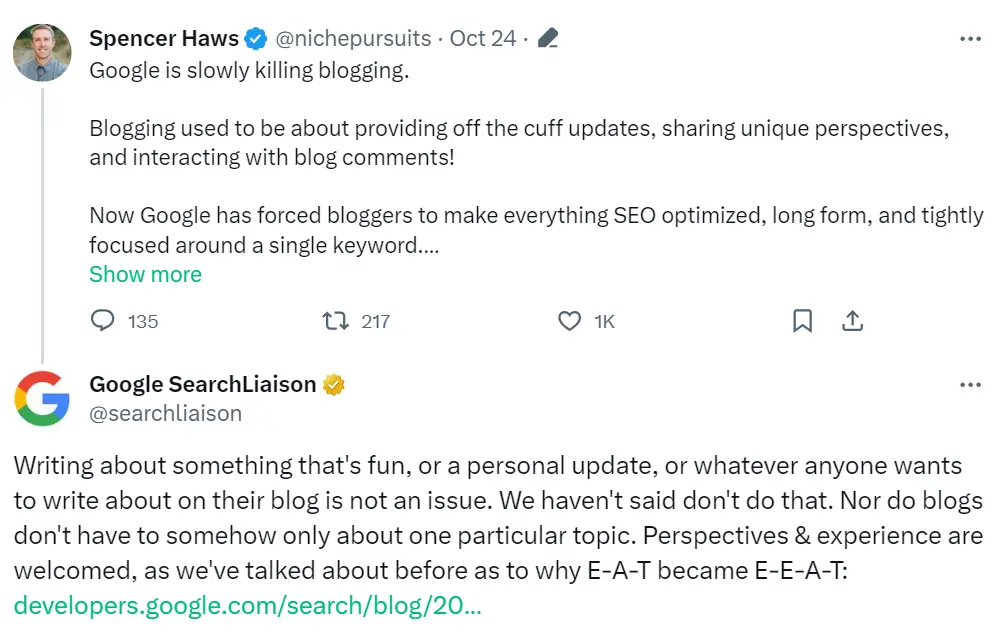 One thing we can appreciate about Google, especially in the last few weeks, is that they have been much more open with SEOs regarding the last few updates that have been rolled out and they are willing to talk about it. However, it took a post from SEO veteran and site builder Spencer Haws to get a reply from Google's Danny Sullivan who runs the SearchLiason account on Twitter/X. He wrote a post headlined "Google is slowly killing blogging" and that got so much engagement that Google's SearchLiason had to give a reply. Here is the post which Spencer Haws wrote.
On this, Google's SearchLiason replied, "Writing about something that's fun, or a personal update, or whatever anyone wants to write about on their blog is not an issue. We haven't said don't do that. Nor do blogs don't have to somehow only about one particular topic. Perspectives & experience are welcomed, as we've talked about before as to why E-A-T became E-E-A-T: https://developers.google.com/search/blog/2022/12/google-raters-guidelines-e-e-a-t…
Unhelpful content is content that's generally written *for search engine rankings* and not for a human audience. If your audience wants to know about what fun thing you did today, and that's why you wrote it — that's helpful. Write away! Write about anything that you think human beings coming directly to your blog would like to hear about. That's all great. But if you wrote "20 fun things you can do today" because your *primary purpose* in doing so that you wanted to *rank well* for "fun things" rather than this being something you'd typically write about, that can be a sign you're producing unhelpful content.
It wasn't something you wrote for you. It wasn't something you wrote for your audience. It was something you wrote for search ranking purposes — and that often can align with unhelpful content. For more, this is our guide about how to create helpful, people-first content: https://developers.google.com/search/docs/fundamentals/creating-helpful-content…"
Now, it does make sense but what we are trying to find out is what is the way forward if Google says that you should not write SEO-optimized content because without that, we ain't getting traffic to our websites which is how you earn money in the first place.