Google announces January 2020 Core Update which is rolling out right now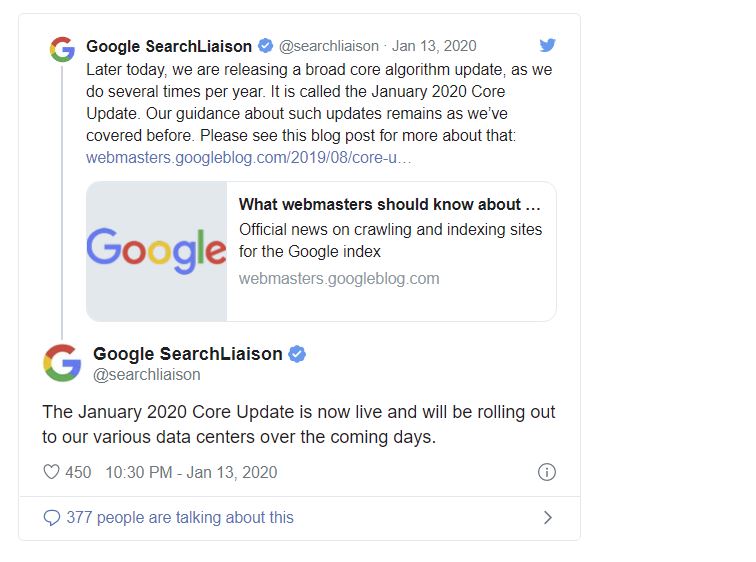 One thing that we have seen from the last year or so is that Google has started to announce the updates it will roll out prior to the release. However, we have also seen that if Google announces an update, it is generally big and affect each and every website on the internet which has been on Google Search.
Having said that, we believe that Google is doing this to provide transparency in its update process. Now, we have a new announcement from Google which reveals that it has started to roll out the January 2020 update. This means that our first major Google algorithm update has already arrived in the first month of the year.
As always, Google just says that you need to follow the instructions previously given by them in case of algorithm updates and what you need to do. However, we have seen reports right now which reveal that this update is a big one. Meaning that there are huge fluctuations seen in the search ranking trackers revealing that many sites are losing positions while some are jumping up as well.
Also, Google still does not reveal what the update is related to which means we only have the option of guessing what it might be. Everyone in the SEO world says that they are seeing huge drops in the ranking positions which reveal that this update has done more harm than good for everyone.
However, the general advice given to anyone who has been hit by the core updates is that they should wait for the effect of the core update to settle down. This generally takes 15 days or longer after which the rankings can be restored. If the rankings are not restored after that period, we can say that the site has been penalized by the update.