Top 10 sites to buy expired domains in 2020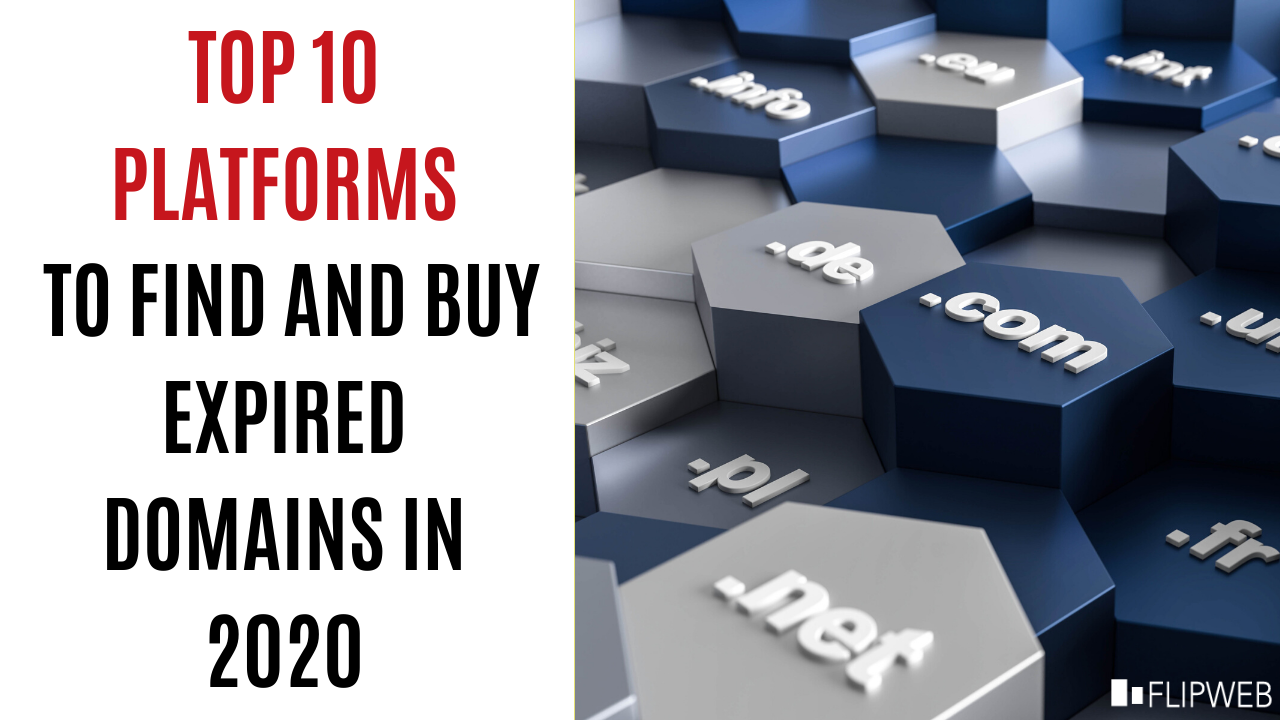 If you are a newbie blogger or someone who has been following the industry for some time now, we are going to tell you about something that will blow your mind. You might have heard of domains which are nothing but URLs that each and every website around the world has. Now, there is also a new category of domains named expired domains.
Well, this is not a new category as such but these are just domains that have expired either due to lack of renewal or lack of interest or for some other. It is worth noting that these expired domains are like digging gold from the internet landmines because they are having a great value which everyone does not realize.
Expired domains, or domains that have expired since a long time, were definitely active at one point of time and that might have been for years before they eventually got expired. This means that work was done on it and they got some good authority during their active days.
For that reason, it is important to find expired domains that are available to register and have good metrics that will help you in the process of boosting your blog.
There are websites available on the internet where you can find and buy those expired domains and they are available at the same rate as your new domains.
GoDaddy Auctions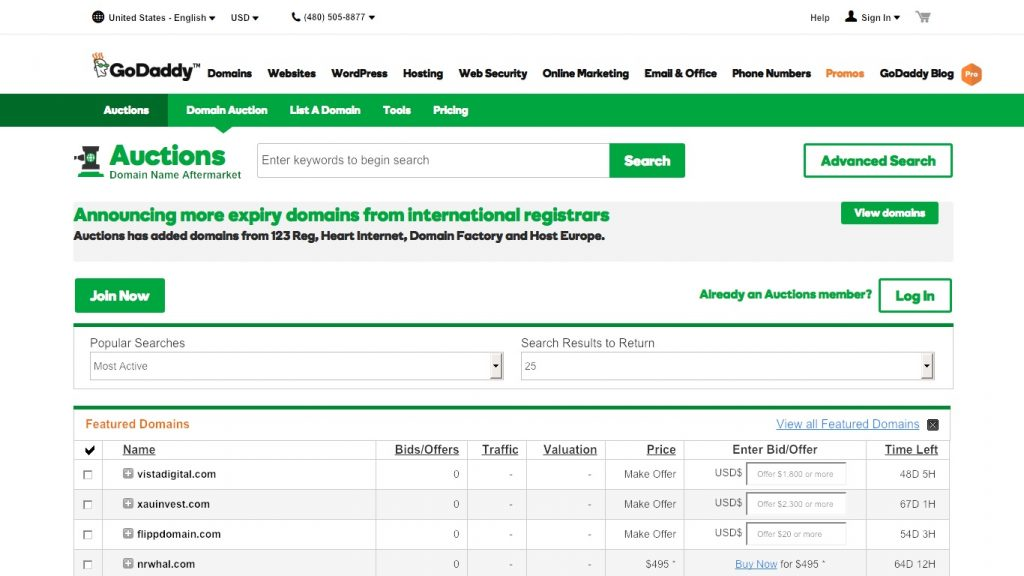 The first website that we will recommend first is GoDaddy Auctions which is part of GoDaddy and it is a place where domain auctions take place.
Basically, people who want to sell their domains, expired or otherwise, will place their domain listings on the site and people who are interested can bid on the listings and whoever has the highest bid can then buy that domain.
On GoDaddy Auctions, you can also search for a domain having specific set of keywords such as "tech" or "SEO" and it will give you the results.
DomCop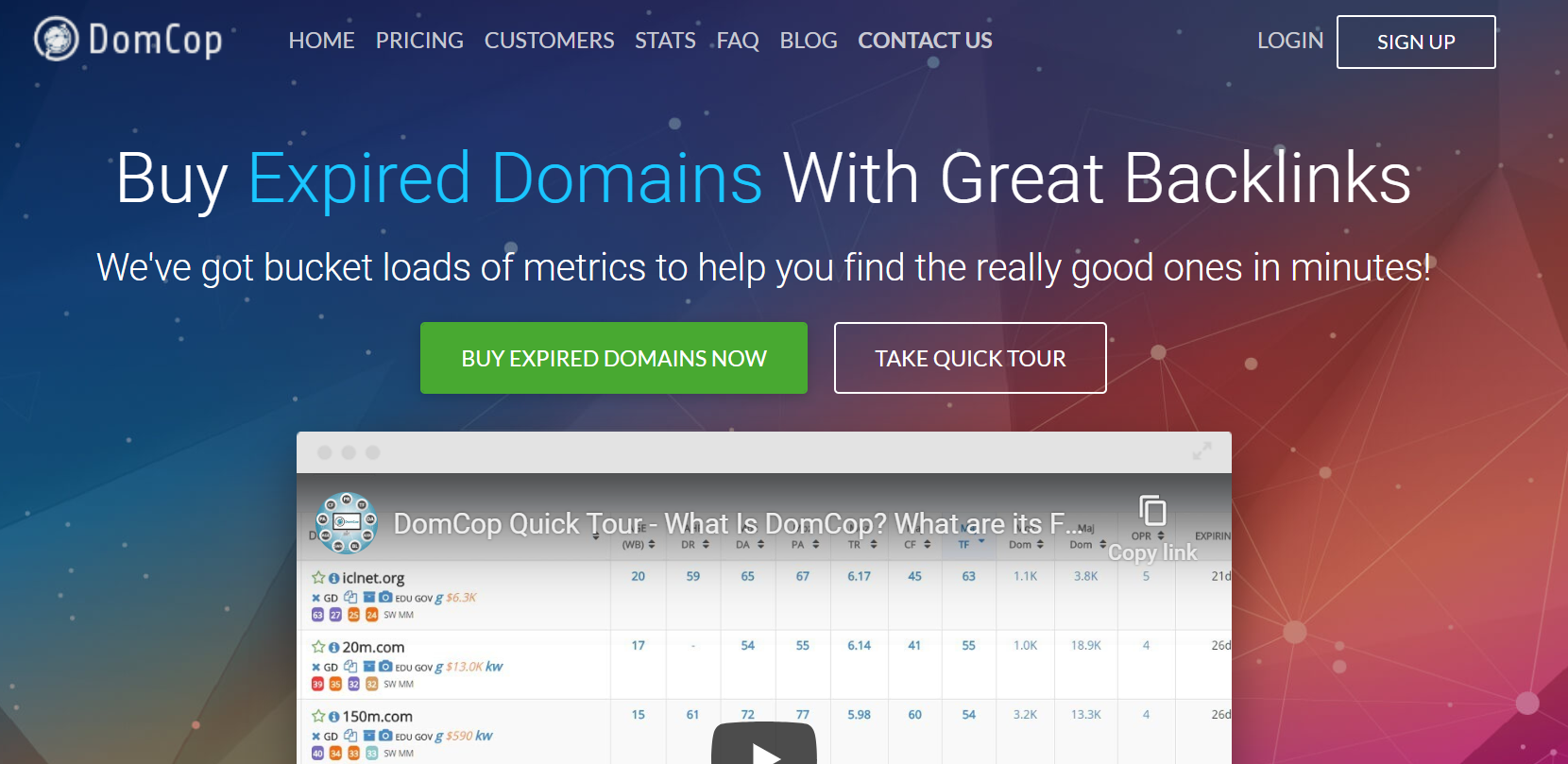 Next website on our list is DomCop which is another great resource for finding and buying great expired domains. It is reported that DomCop has more than 20 million expired domains list on their databases which include over 31 domain extensions such as .mobi, .net, .info etc.
You can also see metrics such as Alexa rank, Moz rank, Majestic metrics and other such information which tells you the real value of that domain. You will see the domain price next to the domain and if it is suitable for you, you can pay and acquire the expired domain.
FreshDrop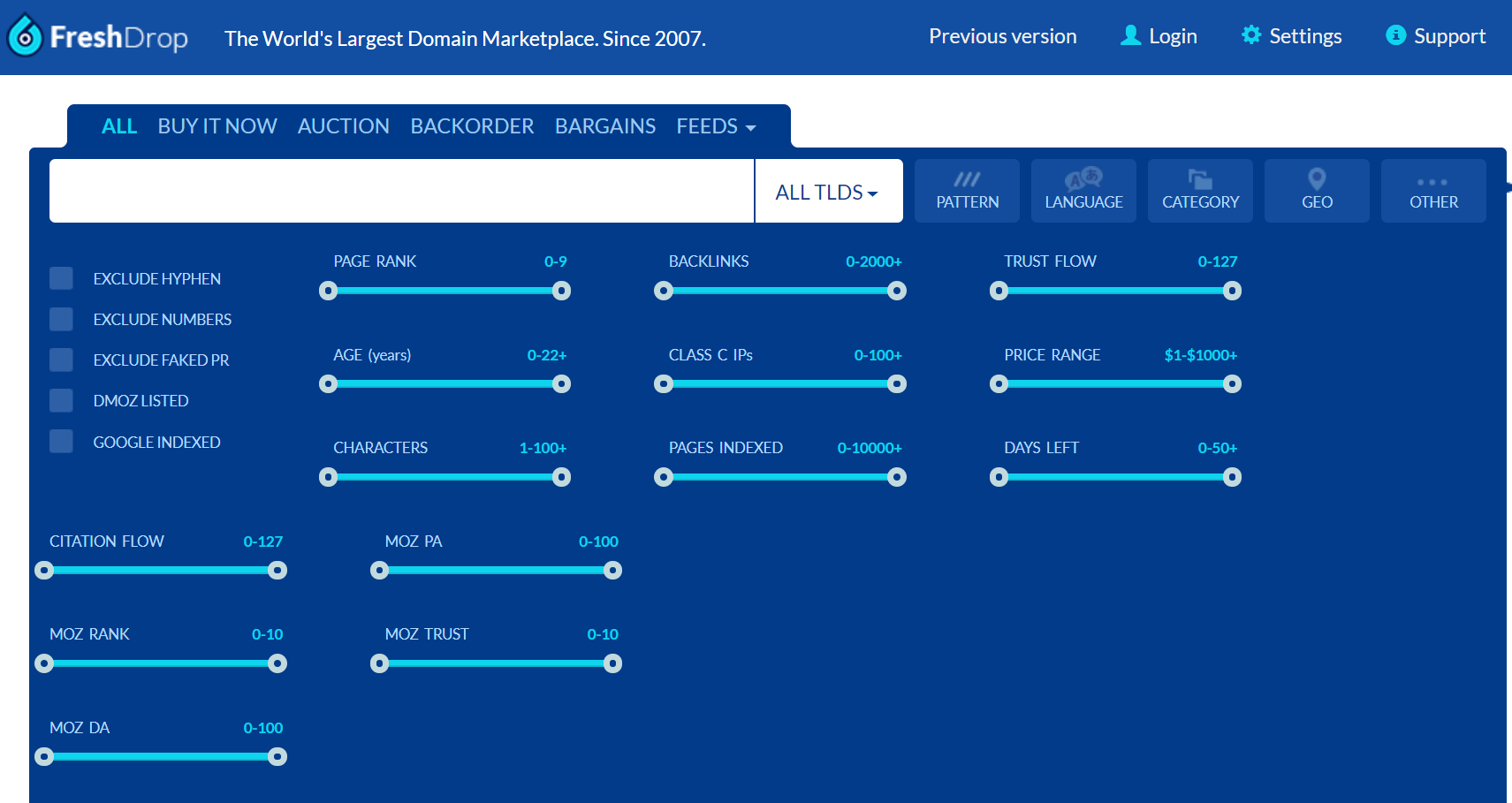 FreshDrop is yet another great website and as the name suggests, you will find domains on this site that have dropped fresh. It has a great reputation among the SEO circles for finding the best-expired domains that will not be available on many other websites.
It is said to be the largest domain marketplace in the world as well. One particular thing to like about FreshDrop is that they provide you with every detail such as a domain's age, Majestic SEO metrics, Moz rank, DA, Page Authority, Page Rank, backlinks count etc. This makes it easy for you to buy the domain after evaluating its value.
Flippa Domain Auctions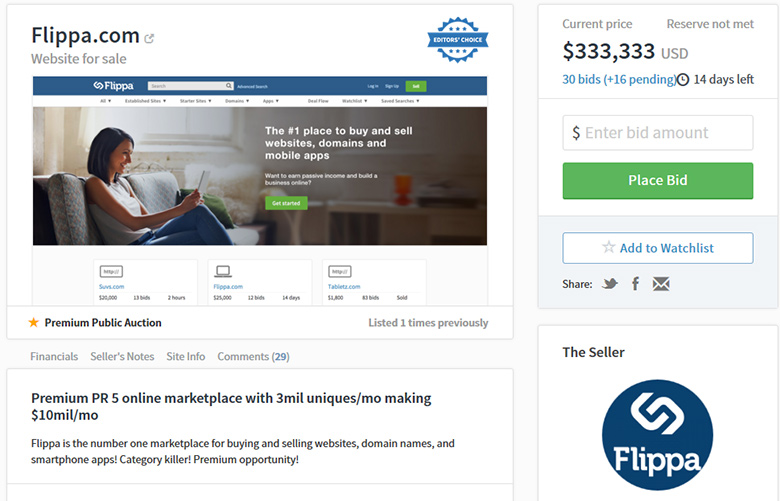 Flippa is also one of the biggest marketplaces when it comes to buying and selling websites as well as domain names. However, you might not know that Flippa can be a great way to find expired domains as well.
It is similar to GoDaddy Auctions in a way that you can bid on your favourite domain and acquire it as soon as possible. There is also an "editor's choice" column by Flippa team which curates the list of best domains that you might consider purchasing.
NameJet
Similar to FreshDrop and DomCop, NameJet is also a premium service where you first need to make an account and pay the monthly subscription price in order to see the domains listed on the marketplace. Once that is done, you will find a rich catalogue of domains.
You will find three type of domains on NameJet which are categorized as Hot Picks, Last Chance or Open Auctions where the last one is openly available to everyone for a fixed price and anyone can pay the set amount to get the domain on a first-come-first-serve basis
Snap Names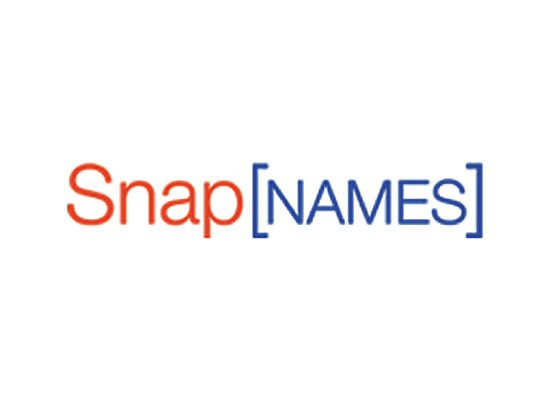 Looking at the list, you have already realized that the websites that are selling these expired domains will also have names that are catchy. For example, our next website on the list is "SnapNames" which is because you need to snap these "domain" names.
SnapNames also claims that they currently have a registry of 30 million domain names available to register in different budget ranges. You can also backorder on this website meaning that they will try to bid on the domain when it becomes available.
ExpiredDomains.net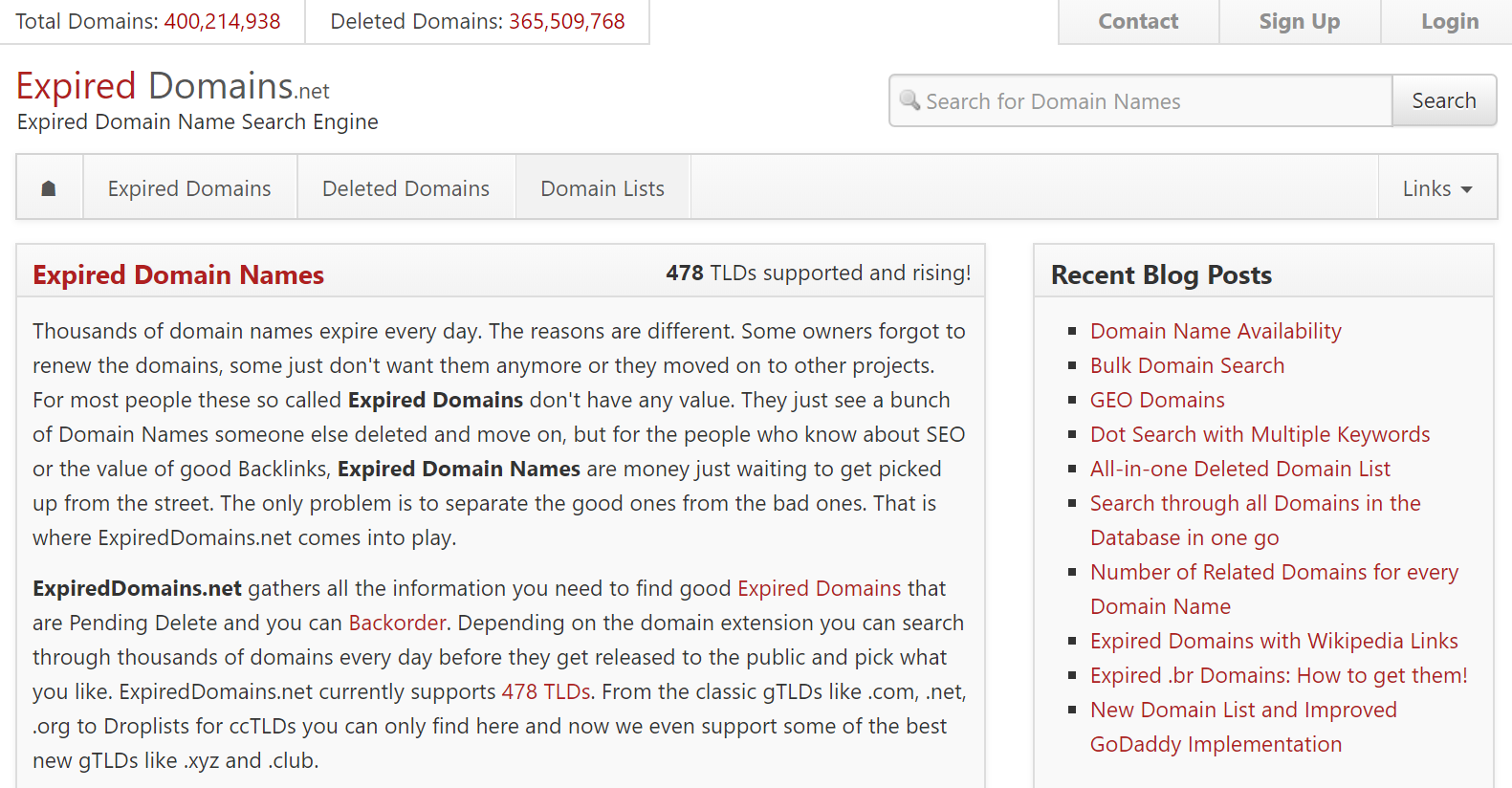 This is one website which you might have heard of a lot whenever you search for expired domains because it is an exact match domain meaning that the search shows priority on this domain. It is also a great marketplace to find the domains that you need at different price ranges.
On Expired Domains, you will see the information needed such as the domain age as well as the backlinks it has and also the PageRank which is important for building upon any domains.
NameCheap Domains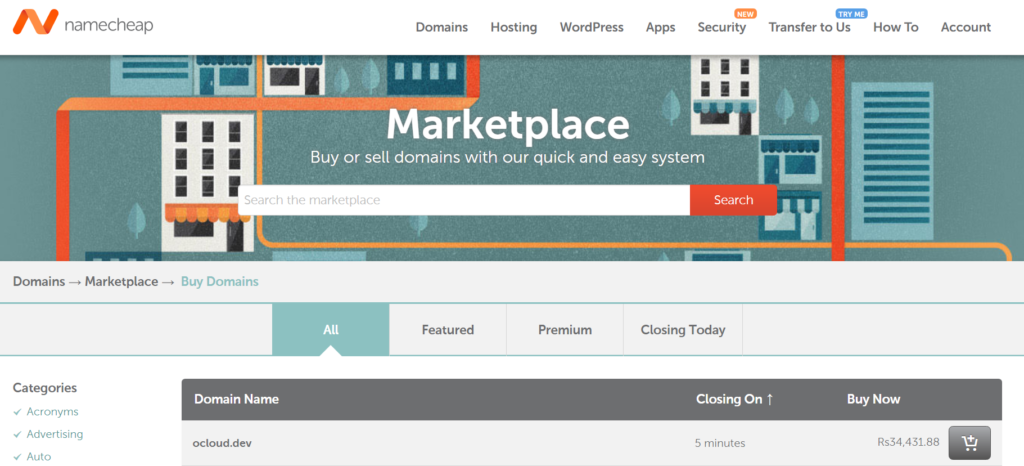 Just like we saw with the GoDaddy Auctions, NameCheap Domains is also a way to find and buy expired domains with ease. You would know that NameCheap is also a place to register fresh domains as well as it is a hosting company along with that. So NameCheap turns out to be the best place for bloggers and it is known to be quite affordable compared to the rest as well.
Also, you can note that NameCheap domains are available for prices as low as $25 and you can go up to $200 and beyond that as well. So it is not necessary to spend big on expired domains since you can get them for low as well.
Domain Hunter Gatherer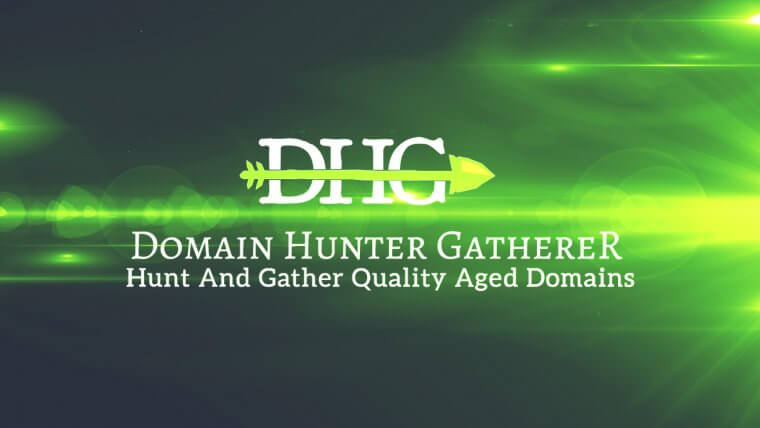 This website is not new on the block but it is one that has not been in the limelight for long. However, it must be said tha Domain Hunter Gatherer is the best place if you want to find brandable domains that have expired.
As the name suggests, this website gathers all the domains from sites such as GoDaddy, Namecheap, Flippa and others and then shows them in a single dashboard where you can easily register them in a few clicks.
1 and 1 Domain Search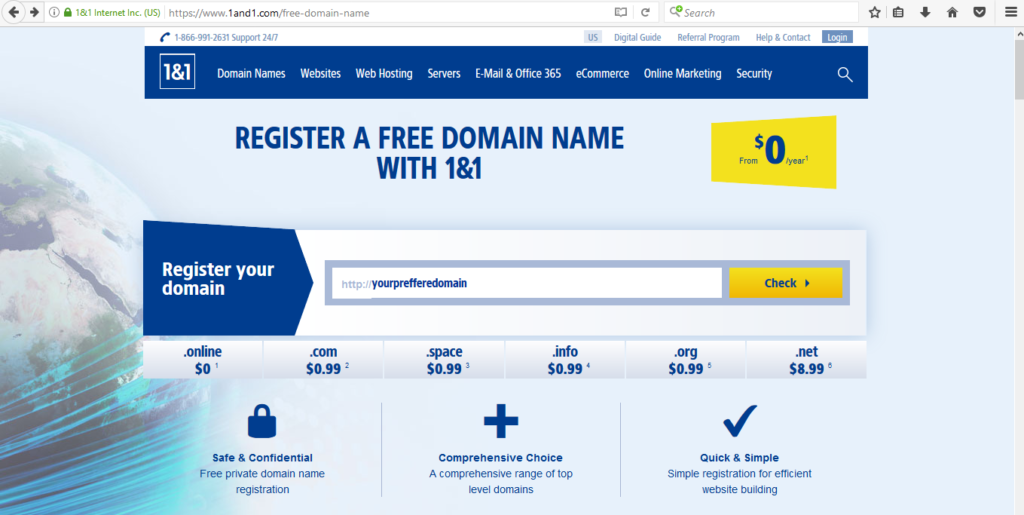 Last but not the least, we have a website named 1 and 1 Domain Search which is yet another way to find expired domains from any niche that you might be interested in. The website is in operation from the US since 2003 and they also provide website domain registration as well as hosting registration.
The best part about 1 and 1 Domain Search is that it gives customers time of 30 days to register their domain which has expired. If a user doesn't renew his domain within that time period, the domains will be moved to the auction place. This is where you can find lots of those domains that you can buy and build upon them.