Google says its September 2023 Helpful Content Update is now 'complete'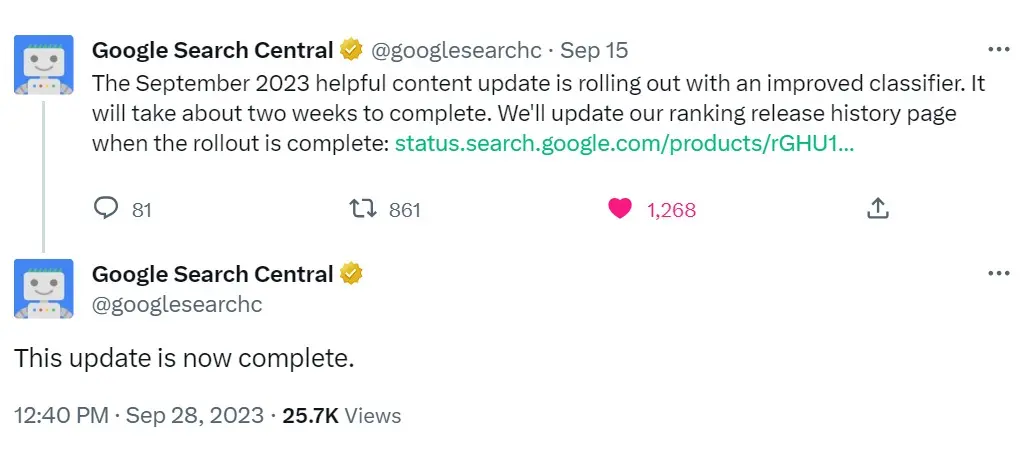 We know that a lot of folks who run a niche site or even work on SEO would breathe a huge sigh of relief (not for a long time though) when we say that Google just announced that its September Helpful Content update is now "complete". Yes, Google's official Search Central Twitter account gave this information just a few hours back that the rollout of its latest update has been completed and that also means that we can analyze the traffic drops as well as bumps (if there were any) and assess what went right and what went wrong regarding our content that the update did not like.
It is also worth noting that the update is called helpful content update because Google has said that it wants to target content that is not helpful for the users and is only made "by SEOs for the purpose of SEOs and traffic" and not to help people get what they want. However, we must tell you that this update has been a hot mess as it brought all the UGC forums such as Reddit and Quora above the niche sites and also the e-commerce sites have been up since the update as well.
Obviously, some sites had to go down and these sites were all the niche sites that were actually putting out helpful content but it looks like the definition of helpful content for Google is different compared to what we know. Anyways, we can tell you that this update has been causing negative effects for almost all the content sites (including this one) and now is the right time to analyze what went wrong with the content that was demoted. One thing we have realized is that Google wants content that is not written for SEO purpose which means the content that wasn't optimized very well and had some comments in between as well as personal touch got promoted. However, you must be aware that August Core Update did the exact opposite so it is confusing for people to understand which route to take going forward and we think even Google is not clear about it.