Meta launches Holiday-themed elements on Messenger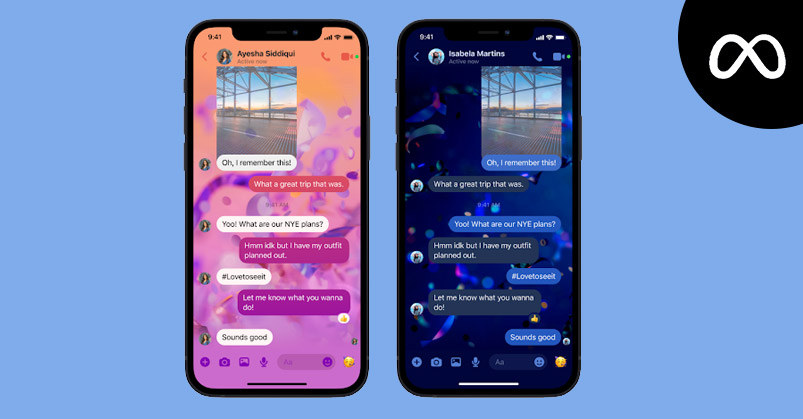 Meta brings the cheer and fun of the holiday season to Messenger via their exclusively launched holiday-themed elements. The New Messenger now features astonishing AR effects and expressive Soundmojis to enlighten the very spirit of Christmas.
The trending AR effect comes from the collaboration with the beauty influencer Ashely Strong. The effect adds sparkles and shiny snowflakes to the eyes. Users can freeze the screen by opening their mouths for cold breath.
With the AR effect, Messenger also incorporated new word effects. As part of the holiday-themed elements, it enables you to wish Merry Christmas, Happy Hanukkah, and Happy Kwanzaa with reference emoji to make chatting more lively.
Meta also introduced a way to enhance the party planning experience with its chat themes and word effects. It was not a great success for Meat with the cool lingo to attract younger kids. Organizing an end-of-the-year party has just become more enjoyable.
Meta attempts to facilitate its users by adding another dimension to the brimming holiday-themed elements with Soundmojis. Users can easily go to the Messenger expression tray and click on the loudspeaker action. And, find a holiday song featuring the emojis.
Meta also tried to strategize the transfer of funds visuals in the Messenger app to encourage people to transfer money while chatting. This could be a great hit for Meta's eCommerce activity as more and more people decide to transfer money using Meta's apps.
Another great feature Meta introduced this holiday season for younger kids includes an option to chat with Santa. The message directly goes to the parent's chat. However, this holiday-themed element intends to help parents buy the best Christmas present for their kids. This is directly imposed as an attempt to attract younger kids to the messenger app.
With its extraordinarily designed holiday-themed elements, Meta tried to uplift the spirit of Christmas. It intends to increase engagement in the Meta apps by providing interactive and cheerful features in time for the holiday season.